God is Love Christian Chinese Art Scroll
100% Handmade Calligraphy - Not A Print - Only $24.99!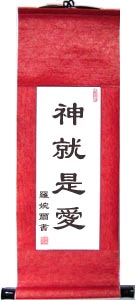 Size: 11" X 32" (28 X 80 CM) Also available in others sizes - This picture is computer generated as a preview. Actual art depends on your customization choices.
This beautiful Asian scroll features the symbols for "God is Love" in Chinese. It is pronounced "Shen2 Jiu4 Shi4 Ai4." Every Chinese Christian will understand this phrase as well as any Chinese person who has heard of God. This Christian Chinese art is an excellent choice for hanging in your home or giving as a gift. It can not only bring Asian culture into your home, but can be a continual reminder that God loves you.
Click links for flower background example, bamboo background, and bamboo and butterfly background.
Use the below chart to choose the color of the decorative silk edging. Then add to your shopping cart and when you are done shopping checkout quickly and securely with Paypal, Google, or Amazon!
Customize God is Love Scroll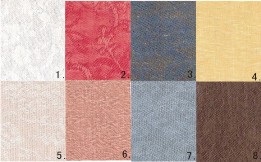 .
This item is 100 % custom made. This artistic process takes some time. Orders are sent directly from our Chinese calligrapher and are estimated to take 4-6 weeks to arrive. If you choose airmail it will speed up the process by about 10-14 days.