Enthusiastic in Chinese Painting Art
Pronunciation in Chinese Pinyin: Re(4) Qing(3)
100% Handmade Calligraphy - Not A Print - Only $24.99!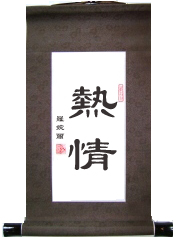 Size: 10" X 20" (25.4 X 50.8 CM)
This traditional Chinese virtue denotes "enthusiasm" or "enthusiastic." The point is to face life with an energetic and positive vigor, to meet each new day expectantly. Get this scroll to bring a ray of sunshine and Asian culture into your own home.
Click links for flower background example, bamboo background, and bamboo and butterfly background.
Use the below chart to choose the color of the decorative silk edging. Then add to your shopping cart and when you are done shopping checkout quickly and securely with Paypal, Google, or Amazon!
Customize Enthusiastic Scroll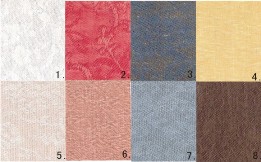 .
This artistic process takes approximately 7-10 days including scroll drying time. Now you can receive your art faster than ever before! We have recently upgraded ALL orders from the US, UK, Canada, and Australia to a new and fast airmail shipping service called ePacket, which is a cooperation between China Post and other international postal services. Expected shipping times are 7-14 days. Each item is registered and we will send you its tracking number after shipment. Orders from other countries will be shipped standard and expected shipping time is 3-4 weeks.