Li Bai Mountain Waterfall Chinese Poem Scroll
100% Handmade Calligraphy - Not A Print - Only $32.99!
Size: 11" X 32" (25Cm X 80 Cm) - Also available in larger sizes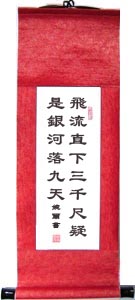 Script: Poem will be written in the Lishu official calligraphy script. This popular style is clear and smooth.
Poem Translation: The water fall's torrent dashes down three thousand feet from high, As if the Silver River fell from azure sky.
Pronunciation in Pinyin: Fei1 Liu2 Zhi2 Xia4 San1 Qian1 Chi3, Yi2 Shi4 Yin2 He2 Luo4 Jiu3 Tian1
About the Poem and Writer: This famous Chinese poem was written by Li Bai (701-762). He is widely regarded as the best Chinese poet who has ever lived. Thousands of his poem are well known and have been classics. His poems are filled with romance, beauty, and emotion. He wrote this poem depicting the natural beauty of the waterfall in LuShan Mountain. In typical, Li Bai style, he uses many vivid verbs to let the reader feel as if they are right in front of the waterfall themselvs.

Title: Gazing at the LuShan Mountain Water Fall
Use the below chart to choose the size of your scroll and color of the decorative silk edging. Then add to your shopping cart and when you are done shopping checkout quickly and securely with Paypal, Google, or Amazon!
Customize Li Bai Waterfall Scroll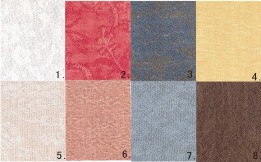 .
Want to search our other ancient Chinese poetry scrolls? Go To Famous Chinese Poems Page
This ancient Chinese poetry calligraphy scroll is 100 % custom made. This artistic process takes approximately 7-10 days including scroll drying time. Now you can receive your art faster than ever before! We have recently upgraded ALL orders from the US, UK, Canada, and Australia to a new and fast airmail shipping service called ePacket, which is a cooperation between China Post and other international postal services. Expected shipping times are 7-14 days. Each item is registered and we will send you its tracking number after shipment. Orders from other countries will be shipped standard and expected shipping time is 3-4 weeks.