Su Shi Song Dynasty Springtime Chinese Poem Scroll
100% Handmade Calligraphy - Not A Print - Only $32.99!
Size: 11" X 32" (25Cm X 80 Cm) - Also available in larger sizes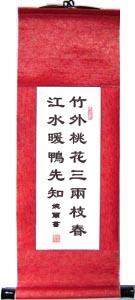 Script: Poem will be written in the Lishu official calligraphy script. This popular style is clear and smooth.
Poem Translation: There are several branches of peach flower beside the thick bamboo, Spring comes, and the ducks on the water are the first to know of spring's warmth.
Pronunciation in Pinyin: Zu2 Wai4 Tao2 Hua1 San1 Liang3 Zhi1,Chun1 Jiang1 Shui2 Nuan3 Ya1 Xian1 Zhi1
About the Poem and Writer: This Song Dynasty poem was written by Su Shi (1037-1101). He is one of the best artists in Chiense history and is known for his picturesque paintings, smooth calligraphy, and heartfelt poetry. One style of calligraphy is named after him as well as one style of traditional Chinese paintings. In classic Chinese art it is common to combine poetry with paintings and calligraphy. An artist will paint a picture in the background and in the foreground inscribe it with a poem in calligraphy. Combining paintings with poems make both more meaningful. This poem was written by Su Shi specifically for one of his most famous paintings, titled "Spring River Morning Sense." In it he expresses the simple pleasures and beauty of springtime.
Use the below chart to choose the size of your scroll and color of the decorative silk edging. Then add to your shopping cart and when you are done shopping checkout quickly and securely with Paypal, Google, or Amazon!
Customize Su Shi Springtime Poem Scroll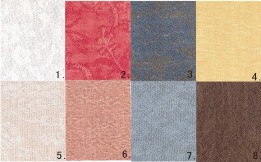 .
Want to search our other ancient Chinese poetry scrolls? Go To Famous Chinese Poems Page
This ancient Chinese poetry calligraphy scroll is 100 % custom made. This artistic process takes approximately 7-10 days including scroll drying time. Now you can receive your art faster than ever before! We have recently upgraded ALL orders from the US, UK, Canada, and Australia to a new and fast airmail shipping service called ePacket, which is a cooperation between China Post and other international postal services. Expected shipping times are 7-14 days. Each item is registered and we will send you its tracking number after shipment. Orders from other countries will be shipped standard and expected shipping time is 3-4 weeks.