Wang Qang Lin Tang Dynasty Be Virtuous Poem Scroll
100% Handmade Calligraphy - Not A Print - Only $32.99!
Size: 11" X 32" (25Cm X 80 Cm) - Also available in larger sizes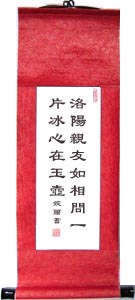 Script: Poem will be written in the Lishu official calligraphy script. This popular style is clear and smooth.
Poem Translation: Oh friend, when folks in Luoyang inquire, let it be said, My heart is as bright as crystal ice in the jar of jade.
Pronunciation in Pinyin: Luo4 Yang2 Qin1 You3 Ru2 Xiang1 Wen4, Yi1 Pian4 Bing1 Xin1 Zai4 Yu4 Hu2
About the Poem and Writer: This ancient Chinese poem was written by Wang Chang Ling (698-756). He is one of the most well-known poets from the Tang Dynasty. His poem are optimistic, bright, and positive, which has made them well-loved by Chinese far and wide. This poem was written when he was about to depart from his home and best friend. At that time he had been through lots of trials. Since the government was very corrupt, he didn't want to be one of them. So he told his friend, if folks in the hometown asked about him, tell them that he would remain noble and virtuous, unstained by bribes or corruption.. This poem nowadays encourages people to be virtuous and do what is right even if it requires self-sacrifice.
Title: In Furong Tower Seeing Xin Jian Off
Use the below chart to choose the size of your scroll and color of the decorative silk edging. Then add to your shopping cart and when you are done shopping checkout quickly and securely with Paypal, Google, or Amazon!
Customize Wang Qang Ling Be Virtuous Scroll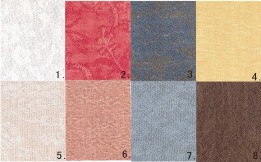 .
Want to search our other ancient Chinese poetry scrolls? Go To Famous Chinese Poems Page
This ancient Chinese poetry calligraphy scroll is 100 % custom made. This artistic process takes approximately 7-10 days including scroll drying time. Now you can receive your art faster than ever before! We have recently upgraded ALL orders from the US, UK, Canada, and Australia to a new and fast airmail shipping service called ePacket, which is a cooperation between China Post and other international postal services. Expected shipping times are 7-14 days. Each item is registered and we will send you its tracking number after shipment. Orders from other countries will be shipped standard and expected shipping time is 3-4 weeks.