4 X 6 Virtue Chinese Calligraphy With Bamboo - Only $6.99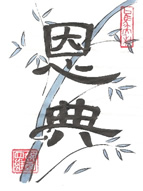 The picture is intended as a sample illustration only. The actual art will depend on how you customize the options below.
Use the below chart to customize your calligraphy and choose the virtue you want. Then add to your shopping cart and when you are done shopping checkout quickly and securely with Paypal, Google, or Amazon!
Customize 4 X 6 Virtue with Bamboo
This item is shipped airmail and is estimated to arrive in 3-4 weeks.