Chinese Calligraphy Proverb Scrolls - Customize Your Own Chinese Art Scrolls with an Ancient Chinese Proverb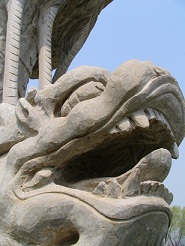 Chinese proverbs are as old as Chinese culture itself. Through China's long history each era has produced hundreds of popular Chinese sayings. Dictionaries now list as many as 20,000 idioms (cheng yu) and 5,000 proverbs (yan yu). They became famous largely for the stories behind them, stories of love and war, heroes and villians, powerful kings and common farmers. These stories embody the spirit and morale of the Chinese people. Popular ancient Chinese proverbs are a concise way to communicate to others the value of hard work, committment, wise planning, and a plethora of other important virtues.
Chinese calligraphy artwork is an ancient and aesthetic discipline in China that often combines natural beauty with words of wisdom. Our Chinese calligraphy paintings are a great way to bring a little Asian beauty and culture into your own home. Among our many other products, we offer custom Chinese proverb scrolls. Choose your favorite proverb scrolls from below and browse our extensive list of Chinese sayings, select a Chinese art scroll style and color and order immediately and securely by credit card or bank account by Pay Pal.
| | |
| --- | --- |
| Bamboo and Butterfly Background Painting - Add Bamboo or Butterflies to Any Scroll Below | Flower Background Painting Example - Add Flowers to Any Scroll Below |
Chinese Proverb Calligraphy Art Scrolls - Only $24.99!
| | | | |
| --- | --- | --- | --- |
| Heaven Rewards the Diligent | The Content Are Always Joyful | The Calm At Heart Will Achieve Great Things | Peace in the Home Brings Prosperity to All |
| | | | |
| --- | --- | --- | --- |
| Flexibility is a Sublime Virtue | Integrity Brings Prosperous Business | All Rivers Flow to the Sea | The Diligent Will Do Excellent Work |
| | |
| --- | --- |
| A Person of Great Virtue Can Bear All Things | Choose Any Proverb for a Custom Scroll! |
Chinese Good Wishes Proverb Scrolls - Excellent for Giving as Wedding Gifts - Only $24.99
| | | | |
| --- | --- | --- | --- |
| A Horse Brings Victory | Live to be as Old as Pine Trees and Egrets | Abundant Joy and Fortune | House Filled With Gold and Jade |
View Our list of Chinese Idioms and Proverbs
View Some of our Custom Bible Verse Chinese Scrolls and Art