Patience (Patient) Chinese Symbol, Pronunciation, and Pin Yin- 忍耐 - Ren(2) Nai(4)

Patience in Chinese Calligraphy Characters (Shufa).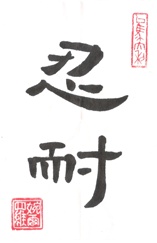 Click Here to Listen to Patience Pronounced in Chinese
Buy a custom hand painted Chinese calligraphy scroll with patience in Chinese
If you would like other Chinese calligraphy items made with these characters for "patience" please use the form on our Christian Virtues page to order your favorite size, style, and color.
Go Back to Christian Virtues Chinese Calligraphy
View Some of our Chinese Scrolls and Art
Also, learn the Chinese calligraphy, characters, pronunciation, pin yin, and audio for other Christian virtues below.