Fang Zhong Yan Song Dynasty Selfless Chinese Poem Scroll
100% Handmade Calligraphy - Not A Print - Only $32.99!
Size: 11" X 32" (25Cm X 80 Cm) - Also available in larger sizes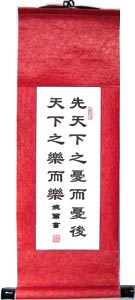 Script: Poem will be written in the Lishu official calligraphy script. This popular style is clear and smooth.
Poem Translation: Be concerned about the affairs of state first, before enjoying life's comfort
Pronunciation in Pinyin: Xian1 Tian1 Xia4 Zhi1 You1 Er2 You1, Hou4 Tian1 Xia4 Zhi1 Le4 Er2 Le4
About the Poem and Writer: This poem was written by Fan Zhong Yan (899-1052). He had a great influence on politics, military, and education during the Song Dynasty. He served the Emperor his whole life. But because he boldly shared his new ides with the Emperor, he was demoted and sent to a faraway and insignificant post. This poem was written by him on the way.
He expressed the belief that as a civil servant he should fulfill his responsibility to his country before enjoying his life or personal pleasures. Although this poem was originally written with service to one's country in mind, the meaning has gradually changed along with society. Now it is used to express the idea that one should fulfill his responsibilities to others before thinking of himself. This is considered a virtue and espouses a selfless and humble attitude.

Official Title: Note for Yue Yang Tower
Use the below chart to choose the size of your scroll and color of the decorative silk edging. Then add to your shopping cart and when you are done shopping checkout quickly and securely with Paypal, Google, or Amazon!
Customize Fang Zhong Yan Selfless Poem Scroll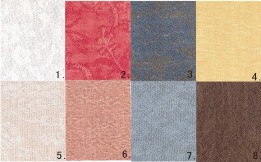 .
Want to search our other ancient Chinese poetry scrolls? Go To Famous Chinese Poems Page
This ancient Chinese poetry calligraphy scroll is 100 % custom made. This artistic process takes approximately 7-10 days including scroll drying time. Now you can receive your art faster than ever before! We have recently upgraded ALL orders from the US, UK, Canada, and Australia to a new and fast airmail shipping service called ePacket, which is a cooperation between China Post and other international postal services. Expected shipping times are 7-14 days. Each item is registered and we will send you its tracking number after shipment. Orders from other countries will be shipped standard and expected shipping time is 3-4 weeks.