Li Bai Tang Dynasty Famous Chinese Poem Scroll - Use Your Talents
100% Handmade Calligraphy - Not A Print - Only $32.99!
Size: 11" X 32" (25Cm X 80 Cm) - Also available in larger sizes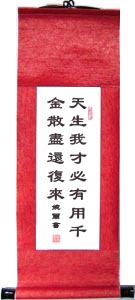 Script: Poem will be written in the Lishu official calligraphy script. This popular style is clear and smooth.
Poem Translation: Since heaven gave the talent, let it be employed! Spin a thousand pieces of silver, all of them come back!
Pronunciation in Pinyin: Tian1 Sheng1 Wo3 Cai2 Bi4 You3 Yong4, Qian1 Jin1 San4 Jing4 Huan2 Fu4 Lai2
About the Poem and Writer: This classic Chinese poem was written by Li Bai (701-762) He lived during the Tang Dynasty and is considered to be the greatest poet in Chinese history.. Thousands of his poems are well known and popular throughout the whole country. It is said his poems are the peak of romantic expression. He served part of his life in the imperial service, but like many famous figures in history was not fully appreciated during his time. This is from a poem originally written as a toast. It express the good wish that he wanted to be used for his talent. The poem is a reminder to everyone not to waste the talents or abilities that have been given to you.
Title: Toasting Song
Use the below chart to choose the size of your scroll and color of the decorative silk edging. Then add to your shopping cart and when you are done shopping checkout quickly and securely with Paypal, Google, or Amazon!
Customize Li Bai Use Your Talents Poem Scroll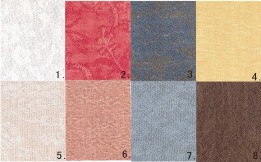 .
Want to search our other ancient Chinese poetry scrolls? Go To Famous Chinese Poems Page
This ancient Chinese poetry calligraphy scroll is 100 % custom made. This artistic process takes approximately 7-10 days including scroll drying time. Now you can receive your art faster than ever before! We have recently upgraded ALL orders from the US, UK, Canada, and Australia to a new and fast airmail shipping service called ePacket, which is a cooperation between China Post and other international postal services. Expected shipping times are 7-14 days. Each item is registered and we will send you its tracking number after shipment. Orders from other countries will be shipped standard and expected shipping time is 3-4 weeks.