Zhao Yi Respect Elders Chinese Poem Scroll
100% Handmade Calligraphy - Not A Print - Only $32.99!
Size: 11" X 32" (25Cm X 80 Cm) - Also available in larger sizes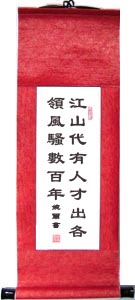 Script: Poem will be written in the Lishu official calligraphy script. This popular style is clear and smooth.
Poem Translation: There are heroes for each generation, They led their people for its time.
Pronunciation in Pinyin: Jiang1 Shan1 Dai4 You3 Ren2 Cai2 Chu1, Ge4 Ling3 Feng1 Sao1 Shu4 Bai3 Nian2
About the Poem and Writer: This traditional Chinese poem was written by Zhao Yi (1727-1814) He was known for his excellent literary and historical mind. He passed down over 5000 poems and history books, many of which became popular only after his death. This poem means that you don't have to be a sheep to agree with your elders. It is a reminder that the older generation often times has wisdom and experience that younger ones would be do well to learn from. Always be humble and teachable.
Use the below chart to choose the size of your scroll and color of the decorative silk edging. Then add to your shopping cart and when you are done shopping checkout quickly and securely with Paypal, Google, or Amazon!
Customize Zhao Yi Respect Elders Poem Scroll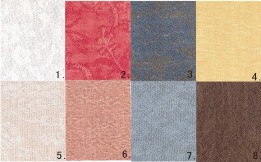 .
Want to search our other ancient Chinese poetry scrolls? Go To Famous Chinese Poems Page
This ancient Chinese poetry calligraphy scroll is 100 % custom made. This artistic process takes approximately 7-10 days including scroll drying time. Now you can receive your art faster than ever before! We have recently upgraded ALL orders from the US, UK, Canada, and Australia to a new and fast airmail shipping service called ePacket, which is a cooperation between China Post and other international postal services. Expected shipping times are 7-14 days. Each item is registered and we will send you its tracking number after shipment. Orders from other countries will be shipped standard and expected shipping time is 3-4 weeks.